Barry J. Smith
817-456-8754
marathon@powernet.net
Experienced in commercial real estate since 1977, Barry was employed and trained in commercial development by two of the top developers in the State of Texas and moved to Las Vegas in 1989. During his employment as Vice President of the retail division of Henry S. Miller Corp. in Austin, Barry supervised and trained a retail leasing staff of 16 employees. He was directly responsible for overseeing the leasing and management of 1.5 million sf of retail properties and maintained a constant 98% occupancy. Barry's real estate accomplishments in Texas include the sale of 14 shopping centers in one transaction (1984) to the Pennsylvania Teacher's Pension Fund totaling $88.5 million.
Diane and Barry Smith formed Marathon Commercial Real Estate in 1993. From '93 to present a few of their accomplishments have been: The sale of a 352 unit apartment project in Henderson, Nevada (Pacific Islands) for $25.5 million, the exclusive leasing and collaborate design of the Showcase Mall anchored by Coca-Cola, Sega GameWorks on Las Vegas Boulevard; the development, exclusive leasing and management of a 160,000 sf Smith's grocery-anchored Shopping center in Henderson, Nevada (Horizon Marketplace) and the development, exclusive leasing/management and sale of a 140,000 sf Wal-Mart Neighborhood Grocery-anchored Shopping center in North Las Vegas, Nevada (Simmons Marketplace); several commercial subdivisions and several land flips.
Barry and Diane Smith have a total of 60 years combined experience in the development and leasing of shopping centers and office parks. Together, Diane and Barry have leased over 7 million square feet of retail space. Barry's expertise is finding 'A+' shopping center sites, matching those sites with anchor tenants and consummating the anchor tenant deal. Barry's extensive knowledge of shopping centers enables him to design a site plan that will lease effectively and function properly. Mr. Smith is also involved with the project from site selection, zoning, engineering through completion of construction. He says "From start to finish, it's one-stop development – we do it all".
Member of International Council of Shopping Centers since 1978. Active member of White Chapel Methodist Church, Southlake Texas. Barry has two children, Jacquelyn Taylor Smith Brown, a graduate of Texas State University and Bradley Jay Smith of Austin TX.
Barry enjoys golfing; flyfishing; archery; hunting; snow skiing; collecting historical lead soldiers and art.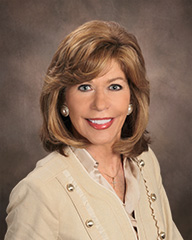 Diane M. Smith
817-948-6994
marathon@powernet.net
Experienced in the sale of Income Producing Commercial and Multifamily Assets, Tenant Representation, Leasing, Tenant Improvement Coordination and Construction, Property Management, Project/Income Analysis, Site Selection/Land Assemblage, Income Analysis and Financing. Diane's exceptional background in leasing and management provides her a competitive edge in collaborating with architects in designing a highly functional project, creating the ideal tenant mix with most centers leased to approx. 60-80% national tenants. The marketing goal is to have the center 80-90% pre-leased when the anchor tenant opens for business and 100% leased and open for business.
Graduate Southern Nevada School of Real Estate with over 800 hours in real estate related classes. Licensed Broker in NV and AZ; Texas Salesman license. Member of International Council of Shopping Centers since 1986
Active member of White Chapel United Methodist Church Southlake Texas. Diane has 2 stepchildren, Taylor and Jay and enjoys spending time with her family and friends.
Diane enjoys golfing; weight training; swimming; flyfishing, snow skiing, painting and reading.
O: (817) 720-5500
Efax: (866) 711-5812
7451 Chapel Avenue, STE: 7453
Fort Worth, TX 76116